Complete Mechanical & Electrical Installation For ASDM Bourn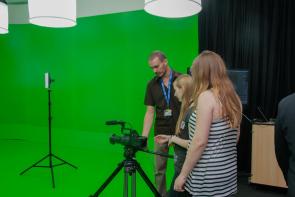 Key facts:
Client: Bournemouth & Poole College
Consultant: Lowe and Oliver
Main contractor: Willmott Dixon
Value: £1.7 Million
ASDM Building, Bournemouth & Poole College
New Theatre, digital media centre and laboratories built to BREEAM Excellent within a live campus site.
The Bournemouth & Poole College has a fabulous new teaching complex at its North Road site in Poole after a "construction schedule that worked like clockwork with no disruption to college life and studies."
The new campus facility at North Road houses 44 new teaching spaces, including four laboratories for Health and Science and a forensic science investigation room. Other facilities include:
Digital Media Suite complete with a digital green room and Mac suites.
New 136-seat theatre, rehearsal spaces and dressing rooms.
Energy efficiency and sustainability are key themes, with electricity partly supplied via photovoltaic cells on the roof which helped the building gain an energy rating of 'excellent' by BREEAM.
LED Lighting was installed within the new building and was controlled via a comprehensive Lighting Control System. A Specialist Wireless Fire Alarm System was installed to cover the new building, this formed part of the colleges existing system.
Also CCTV, Intruder Alarms, Disabled, Refuge Alarm & Disabled Toilet Alarm Systems were also installed and these also formed part of the overall systems of the Main College.
Lowe & Oliver carried out the complete Mechanical & Electrical Installation of the new Block. Mechanically the project consisted of extending the Gas, Water & Heating services from the existing building to serve the new facility, gas system to serve six new Laboratories, ventilation system from four Air Handling Units situated on the roof of the new building and Air Conditioning has been installed to the first floor class rooms.